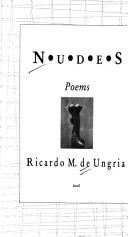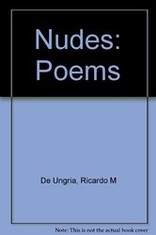 by Arnel Banaga Salgado

Reading Ricky de Ungria is rewarding aesthetically and intellectually. He proved himself to be one of the leading contemporary Filipino poets with the rank equal to Jose Garcia Villa, Nick Joaquin, Hilario Francia and Carlos Bulosan. His 38 poems included on this book are all erotic in nature but their poetic beauty (whether in form or style) eliminates the literal meaning which an ordinary reader may not interpret properly on the language which the poet Ricky de Ungria used. Like in poem TRYST (p.15):
By the bread shop and not

at the foot of the bridge

White blouse, short hair, black jeans.

The yeast climbs to a crisp, brown top

Glaze of sunset over city lights.
There is a difficulty in interpreting his metaphors. Like lines 6 and 7 are suggesting trifles but in the literary language, it is about the crescendo of love making. These maybe histrionic, but the poem needs it. If de Ungria did not find a proper metaphor in his poems (not only Tryst) - he could have not made beautiful poems that assured his place on the history of Philippine Contemporary Philippine Literature. LOVE is the most difficult theme to tackle in the field of poetry, if one attempts to make a poem about it, rules of versification must be followed and a cunning display of the mastery of English language plus adeptness in weaving metaphors together which de Ungria did. On lines 13-15, he said:
The word instinct and white-hot complemented each other suggesting erotic activity. If he did not use instinct, what is the proper term then to catch the sexual drive of a person? De Ungria did not come out with the word desire because it is too prosaic and dialectical while instinct is simple and direct which catches the imagination of the reader. In this sense, it becomes powerful to move the aesthetic sense of the reader. His style in presenting erotic verses is not very different from the styles of our leading Filipino contemporary poets like Marjorie Evasco, Ruel de Vera and Danton Remoto. Although Remoto chose to be more obscene - his way in writing poetry resembles the style of de Ungria like when he said on his poem, Tonight I will live in your skin (Skin Voices Faces, Anvil, 1991 p.45); "my finger will gently graph / the rise and fall of your breast."
Sometimes, reading some of his poems does not prove to be fruitful and enjoyable. His usage of different figurative language is too confusing, although this serves the purpose of making multiple meaning in poetry, as Hall (1972) said, "…a poem is good when its exact meaning cannot be known by anybody including the poet that is why a poem is personal; (italics mine)…" (Enjoying poetry, W. Hall, Prentice Books, 1972, p.34) - it does not mean to say that the poet may not think about the perspective of the reader (after all a poem is personal). A poet must always consider the audience if he wants to be published, but if he does not want, it is not necessary to clarify everything (that is actually the real job of the artist). In this case, de Ungria published a lot of poems that earned him a reputation, thus, he must be simple sometimes and indirect. Histrionic verses can restore the romantic sense of the poet and the reader because the two are complementary, but the latter must be given more importance because it determines the success of a poet (Tina Lacambra-Ayala: The Penetrating Eye by C.M. Grow, p.366).
An examination of de Ungria's works clarifies that he does not base all his poems on experience alone (that is too personal anyway) but on the events his observant eyes and his genius can see. His mastery to handle subject as subtle as LOVE marks the giant leap of Philippine poetry. I believe, he is the one who started his theme in the country i.e. quite obscene and erotic in nature. Western romantic poets were to finesse to handle love like Shelly, Keats, Johnson and W.H. Auden, but not de Ungria. A decent mind especially the conservatives do not care to open the pages of his book, NUDES. Remember the story of Joe Quirino, Cupid Love Psyche (National Bookstore, 1972). Now, if a convent girl wants to read an obscene book (as many claimed) she can freely go to POWERBOOKS and buy a copy of the book of Ricky de Ungria. Surely, they will enjoy his cunning presentation of Love, Lust and Love making.
On the first poem of his book, Kant Carnival (p.13), it goes:
No one shall be called to flesh in our arms

Who was not in the mind tapped a beat and danced.
This poem is philosophical in mature but the use of carnal word flesh redefines its context to suggest erotic activity and the word mind on the second line suggests imagination. His style in weaving metaphors and an aesthetic use of contemporary language like flesh-mind (body and soul) makes his poem sensible, dialectically beautiful and perfect to move the inner soul and spirit of the readers. It is like viewing the NUDE paintings of Victorio Edades and J. Elizalde Navarro. Ricardo de Ungria knows how to maintain the unity of his poetry althroughout. Obviously, he established his own style and niche in the word of poetry. Surely, he can be remembered when he dies as one of the greatest Pilipino poet the country had produced.
His poem INNER THIGH (p.35) does not need a verse to illustrate its meaning. In fact, it is already a poem like that of José Garcia Villa's Comma poem. De Ungria's artistic power is exceptional. His use of alternate words and succession of lines on this poem is very romantic and serene. I can almost feel the love of the woman as he describes on line 17-20:
What do these suggest? "A bow with a black ball / of fire for an arrow" - can be interpreted as the phallus which is making its intrepid act of darting into the woman's genitalia. This is absurd in literal sense, but on the way De Ungria presented it is too artistic or perhaps the poet is just harboring desire to do it or on the psychologist's point of view - is a suppressed childhood sexual drive. The poet alone knows it. I remember that Cuadra said on the Foreword of Lacambra-Ayala's ORDINARY POEMS, "there is a saying that is in the nature of a woman (man as well) to love…but what about the woman (also man)? These ordinary poems are here to be read, enjoyed and thought about (italics mine)…" If a man is in love, what does he do? Sing or make a poem? Ricky de Ungria is obviously in love now - with his poetry which is exceptional especially on the way he tackled LOVE. Artists who venture on this theme can only be considered as geniuses. I believe Ricardo de Ungria is one of them. I remember one time when I attended the gathering of the Hilipino poets, he was asked to read a poem. He agreed, rose and went to the podium then closed his eyes and suddenly his mind was absorbed into eternity - he hummed…for about two minutes… and this is what he called as his poem. He is worth to be considered as one of the world's greatest poets with the rank equal to Whitman, Shakespeare, Milton, Frost and W.H. Auden.
His gift of capturing imagination and his use of striking imagery is exceptional. His experience and his continuous weaving of poems about this delicate subject matter (LOVE) are subtle and his creative poetic craftsmanship gave him a place of honor in Philippine Literary Community. Therefore, it is necessary to study his and his erotic poetry.
Histrionic in poetry is any line that expresses powerful emotions which distort the point that the poet wants to convey.




This theme (love) is tried my many Pilipino poets including Virginia Moreno, J,.G. Villa and Ophelia Dimalanta but they were not able to make poems as de Ungria's poetry. Remoto, De Vera and others followed afterwards.




The heroine (a convent school girl) met Juan del Rio through her defiance to read his forbidden book of poetry that challenged the belief of their times, that was a century ago. Because of this, she dropped out of school and fell in love with the author of the book, Juan del Rio. They were engaged but never met as Cupid loved Psyche.




This is published on the 1994 issue of the Saint Louis University Graduate school Research journal, p. 366 edited by Prof. Felino Lorente.



REFERENCES
Casper, Leonard, A Haggle of Filipino Poets, Syracuse, Syracuse University Press, 1967
Cuadra, Jolico, Foreword, In Tita Lacambra-Ayala, Ordinary Poems, Manila: Erehwon, 1967.
Demetillo, Ricardo, The Authentic Voice of Poetry, Diliman, University of the Philippines, Office of Research Coordination, 1962
Grow, L.M., Jose Garcia Villa: The Poetry of Calibration. World Literature Written in English, 1987.
Hall, W., Enjoying Poetry, England, Prentice Hall, 1972.
Hufana, Alejandro G., Impression on Filipino Verse and Verse
Making in English, University College Journal 5, 1963-1964.
Lorente, Felino L. (ed.) Research Journal, Baguio City, Saint Louis University, 1994.
Quirino, Joe, Cupid Loves Psyche, Manila, Philippines, National Bookstore, 1972.
Remoto, Danton, Skin, Voices, Faces, Manila: Anvil Publishing, Inc. 1991
Ungria, Ricardo de., Nudes, Manila, Philippines: Anvil Publishing, Inc. 1994.